In case you weren't already aware, Pudsey the dog… remember him? That gorgeous little talented dog that won Britains Got Talent a few years back? The one that Simon Cowell fell in love with and subsequently took under his wing? Yes, that one, well he's made a movie!!!!
And it opened in cinemas nationwide yesterday, 18th July.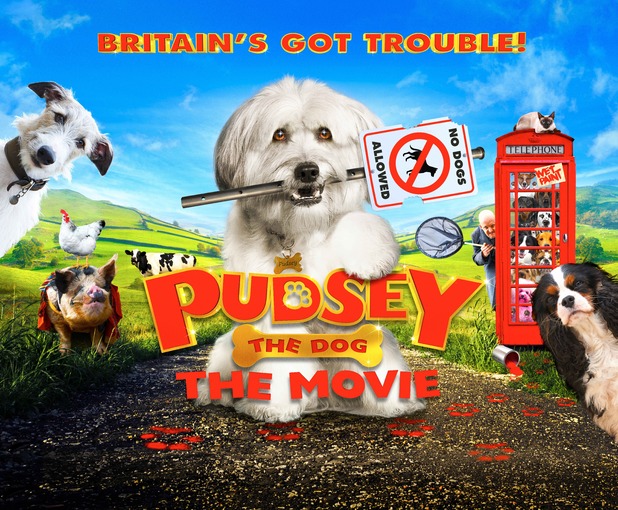 We were very lucky to be invited to the Premiere in Leicester Square last Sunday and my children had been looking forward to it all week (as had I), we couldn't wait. It was so exciting, I mean, seeing celebrities, being on the red carpet and soaking up the atmosphere… it's not something you do every day!
In Leicester Square.. the home of movie premieres, the paparazzi were poised ready for us the stars to arrive and we made the most of photo opportunities! Of course, the only 'star' my kids wanted to see was Pudsey himself!
My daughter spotted these two very talented young ladies – Opera singers Lucy Kay,  (this years Britains Got Talent runner up) and Charlotte Jaconelli (of Jonathan and Charlotte, also BGT runner up!) They very kindly posed for this photo!
Once inside the cinema we were also treated to a pre-film party, whereby we ate Pudsey related party food and all sorts of entertainment was laid on.. then when we had taken our seats in the auditorium, Pudey and trainer Ashleigh (who looked stunning) came in to introduce the film and say a few words about their amazing story! Ok, well Ashleigh spoke, Pudsey barked!

The film has been billed as "A heart-warming, quintessentially British adventure for all the family". And that's exactly how I would describe it too.
The first thing I noticed as soon as the film started was that Ashleigh wasn't in it! Not surprising considering she's not an actress, but I hadn't given it a thought beforehand! Instead, Pudsey in the film is a stray London dog who finds love in the form of a family who are moving to the countryside! Que lots of fun and capers and lots of London landmarks and British countryside! It's sure to appeal to cinema goers overseas! Pudsey is actually filmed in Hertfordshire where I live.. I recognised lots of familiar places which made it very exciting for us!
My children LOVED the film and Pudsey was amazing in it! It really is a feel good film, it's simple but entertaining, all my children were mesmerised from start to finish.
I would recommend everyone go and see it, especially if you have children.. they will absolutely LOVE it! And if you haven't, it's still worth seeing.. there are some laugh out loud moments and the odd tear jerking moment too. There's something for everyone.
I would definitely go and see it again.