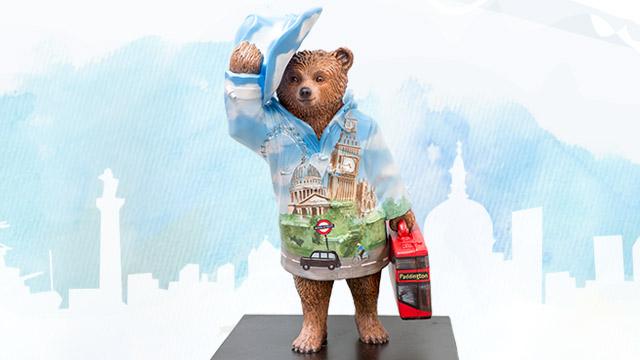 I don't know about you, but if like me, you live in or near London, you may have seen some of the 'Paddington Bear' statues suddenly appearing and dotted around in Central London. Have you wondered what they're all about? Obviously we know that there's a brand new feature film about him to be released in the UK very soon so I was taking a guess they were something to do with that… a little bit of a publicity stunt!
And I was right, the wonderful statues DO have something to do with the new film but there's a bit more to them than simply promoting a new movie!
In association with the NSPCC, VistLondon.com and Studio Canal, the amazing Paddington Bears have all been designed by celebrities such as David Beckham…. who's bear is called 'Golden Paws', Emma Watson… 'Flutterby', Benedict Cumberbatch…. 'Sherlock Bear', Peter Capaldi 'Paddington Who?'…. also Stephen Fry's 'Paddington is GREAT', Nicole Kidman's 'Blush' and the Mayor of London Boris Johnson's 'The Bear of London' (shown in the picture above) which has been inspired by London – from Big Ben and St Paul's Cathedral to Tower Bridge – this Paddington wears his love for London on his sleeve.
The Paddington Bears are a new, temporary tourist attraction whereby we are invited to find them all by going on a 'Paddington Trail' across the Capital!
The Mayor of London, Boris Johnson said, "London has a fine tradition of welcoming visitors from overseas and Paddington Bear is no exception. I hope Londoners and visitors to our great capital will follow the trail and perhaps offer him a Marmalade sandwich or two wherever they find him."
Visitors will be able to follow in the furry footsteps of the world's favourite Peruvian explorer visiting locations across the capital from as far west as Heathrow through to the O2 in the east, taking in some of London's key cultural and landmark hotspots such as The Royal Opera House, Museum of London, Horse Guards Parade, the Museum of Childhood, Selfridges and, of course, Paddington Station.
Hugh Bonneville, who plays Mr Brown in the forthcoming PADDINGTON film, joined fashion designer, Lulu Guinness and others to reveal their designs ahead of the overnight installation of all 50 bear statues in time for fans and visitors to London to see them in all their glory, up close and personal from Tuesday 4 November.
London based design company 3DEye has helped to create the three foot six inch tall statues, which will be auctioned online by Christie's from 10 December to raise vital funds for the NSPCC and its ChildLine service, helping to ensure that children and young people have someone to turn to in times of need in the same way as Mr and Mrs Brown were there for Paddington.
Peter Wanless, CEO of the NSPCC said: "It's so exciting to see the capital being taken over by this famous duffle coat wearing bear, and I hope that Londoners and visitors to the capital alike will enjoy exploring The Paddington Trail over the coming weeks. In the Paddington stories, Aunt Lucy implored Londoners to 'please look after this bear' and we'll be giving people the chance to do just that when the statues are auctioned off later in the year in support of our ChildLine service."
Other designers include stars of the Paddington film Sally Hawkins, Julie Walters and Ben Whishaw, Hollywood actor Michael Sheen, director Guy Ritchie, Pink Floyd's Nick Mason, globally renowned photographer Rankin, leading fashion designer Matthew Williamson, painter and street artist Inkie, illustrator Hannah Warren, presenters Davina McCall, Ant McPartlin & Declan Donnelly and Jonathan Ross, explorer and survival expert Bear Grylls, and both Chelsea football team and the England rugby union team.
The final four statue designers were also revealed as: celebrated artist Marc Quinn, world renowned architect Zaha Hadid, supermodel Kate Moss whose 'Goldiebear' is currently in the Christmas themed window of Selfridges and Hollywood superstar Sandra Bullock who has created a GRAVITY inspired design of Paddington in an astronaut's outfit which will be hung from the ceiling at the Royal Observatory, Greenwich.
Paddington's origins date back almost sixty years to when his creator, Michael Bond, bought a small bear from Selfridges on Christmas Eve 1956, as a present for his wife, and named him after the nearest railway station to which they lived.
Selfridges is the Trail's retail partner and will be selling a selection of statue miniatures from a dedicated Paddington concept store showcasing a variety of Paddington related products and artifacts.  The Paddington Curiosity Shop has been created especially to celebrate the historic link between the store and the famous bear as well as raising funds for the NSPCC and its ChildLine service.
In Michael Bond's original tales, the young bear finds himself alone in a big and unfamiliar city.  Taken in by the Brown family, he finds a warm welcome and a safe place to stay and sets out to discover more about his adopted city.
Due for release in UK cinemas on 28 November 2014, the big screen debut of PADDINGTON will showcase many of the trail locations in the capital, including his first port of entry – Paddington station. The film from Heyday Films and STUDIOCANAL is written and directed by Paul King (Bunny and the Bull, The Mighty Boosh) produced by David Heyman (Gravity, Harry Potter) and boasts an all-star cast including Hugh Bonneville, Sally Hawkins, Julie Walters, Peter Capaldi, Jim Broadbent and Nicole Kidman with Ben Whishaw as the voice of PADDINGTON.
I want to take my own children on some of the Paddington Trails… or maybe squeeze them all into one action packed day! It looks so much fun and considering my children have been banging on about the film for a while now (they can't wait to see it!) I'm sure they will absolutely go crazy over these bears! There isn't much time to decide whether you should go as they won't be around for very long…. so don't miss out, make sure you see the fantastic Paddington Bears while you can…..
To find out more about The Paddington Trail, head over to the Visit London website where you can also see all of the bears that are currently on show.
Follow #PaddingtonTrail
For further details on the Paddington movie, visit www.paddington.com