The summer holidays have now officially started (woohoo!!) and families all over the country are busy planning their days out here and there with the kids. Looking forward to visiting their favourite places whilst the weather is (hopefully) nice!
One of our favourite places to visit locally is Willows Farm. I've written about it many times but I can't help being a huge fan, it's a fabulous place to be.
You don't have to be local to it though, it's one of those places that's worth travelling to! There is so much to see and do, you could easily spend all day long there so it's easily worth the effort and the entrance fee, which isn't expensive I might add!
We will definitely be visiting once or twice over the summer holidays and the annual A_-MAIZE_-ING Maze has returned again this year which we absolutely love!
This year, two year old Alina Maisie, from Chesham planted the seeds of summer at Willows Farm and they are now ready for the Summer Spectacular event at which began the 19th July.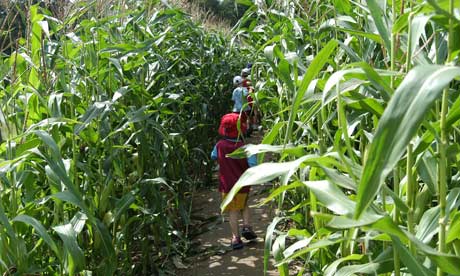 With her wheelbarrow and trowel in hand, Alina sowed the seeds for a maize maze that will span acres of land, with a little help from Farmers Anna and Andrew of course. Farmer Andrew said 'Our A-maize-ing Maze is a firm family favourite but this year we wanted to do something extra special. Parents often describe their children as "shooting up" so we wanted to plot our maize maze's growth against little Alina Maisie's growth!'
But Alina Maisie may be on the back foot as the A-maize-ing Maze is set to grow to be 6 feet tall by the height of summer. Alina's Mum, Katharina, said 'We're so pleased to be involved in the planting of the maze at Willows, and seeing how tall Alina Maisie will grow compared to the maze. "We've been invited back to visit so Alina Maisie can track the maze's progress – I can't wait to see her face when she sees the maize seeds she planted towering over her!"
As well as Maisie's A-maize-ing Maze, Willows will also have a jam-packed programme of activity for visitors to enjoy during Summer Spectacular! Visitors can take a punt on Billy No Mates or Kid Me Kate as they compete to win on the goat racing track. They can then go for gold themselves in the summer sports day races- who will be the fastest on the space hoppers or the quickest to navigate their wheelbarrow around the cones? Plus, find all the family favourites like Woolly's Workout Agility Play Trail, Tristan the Runaway Tractor and under cover play at JCB Little Learners and Woolly's Jumpers Indoor play barn throughout the summer season.
We can't wait to go!
Summer Spectacular is at Willows from 19 July to 31 August 2014, for more info visit the Willows Farm website.
Here at Mummy Endeavours though I am giving away a family ticket for Willows and I want YOU to have it… so enter now via Rafflecopter, it's ever so easy….